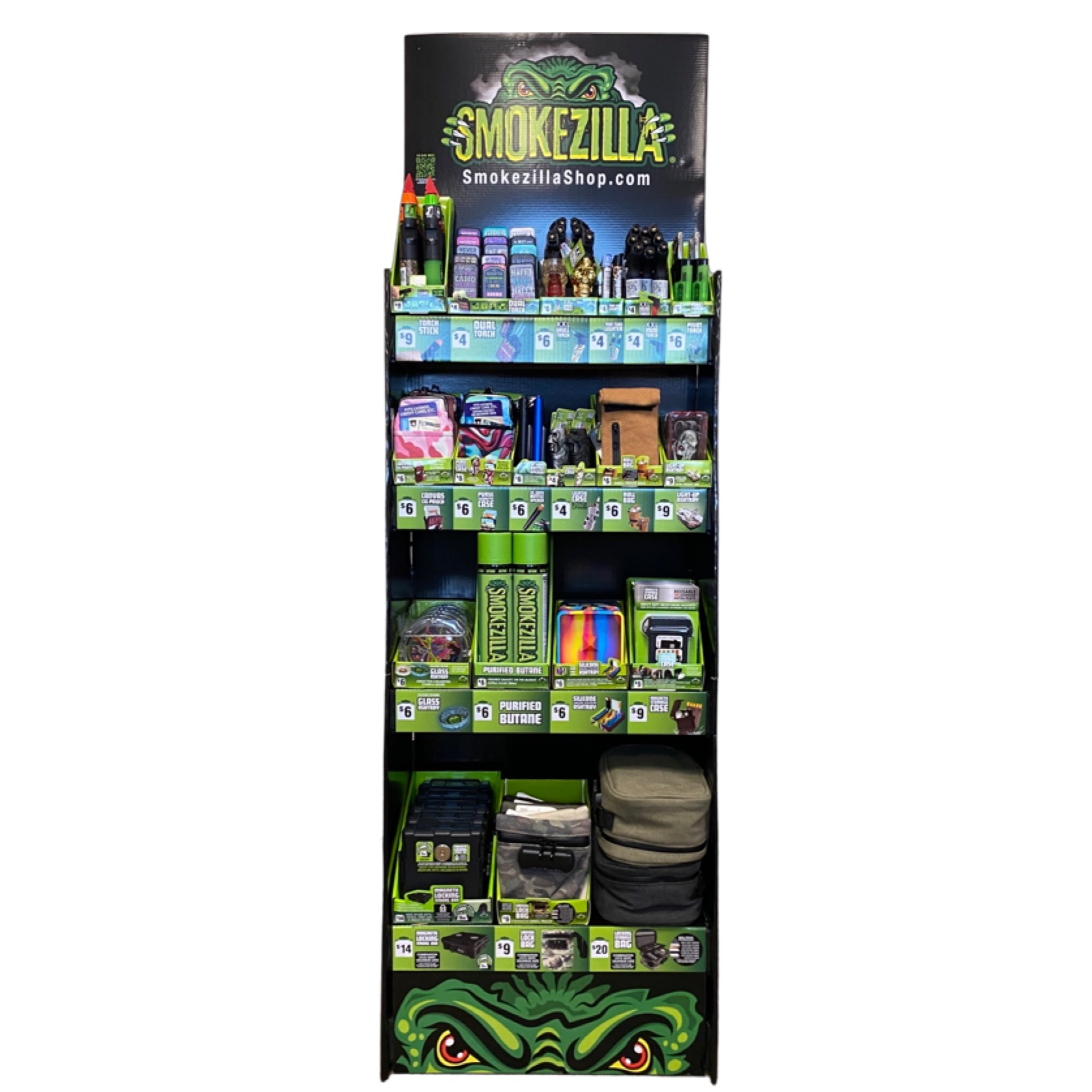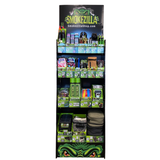 ---
WHOLESALE CORRUGATED 4.1 FD KIT - 138 PIECES PER DISPLAY 88377
138 pieces per display
1 displays per case
Description

Product Info

Sales Info
Smokezilla-in-a-Box! Pre-priced Smokezilla Kit includes OVER 135 of our HOTTEST ITEMS that will sell quickly in your store. The kit includes a corrugated floor display and a mix of lighters, stash, torches, ashtrays and more! 
Just unpack and display – Smokezilla is making it easy for the sales to roll in!
Limited UPC display - one UPC per price point.
Each Floor Display Includes:
| | | | |
| --- | --- | --- | --- |
| ITEM# | PCS / DISP | DESCRIPTION | UPC |
| 041483  | 15 | Big Bubba | 794080415013 |
| 041485 | 12 | Thin Lighter w Charm | 794080415013 |
| 041486 | 9 | Thin Tube XXL | 794080415013 |
| 041491 | 12 | Mystic Lighter Case | 794080415013​ |
| 041484 | 6 | Skull XXL | 794080415020​ |
| 041487 | 6 | SZ Extended Pivot Torch | 794080415020​ |
| 041488 | 6 | Canvas Cig Pouch | 794080415020​ |
| 041489 | 6 | Neoprene Cig Pouch w Zipper | 794080415020​ |
| 041490 | 12 | Cig Saver Bottle Opener | 794080415020​ |
| 041492 | 6 | SZ Roll Bag | 794080415020​ |
| 041494 | 5 | GID Glass Ashtray | 794080415020​ |
| 041495 | 6 | 300ml Butane | 794080415020​ |
| 041496 | 6 | Silicone Pyramid Ashtray | 794080415020​ |
| 041482 | 8 | Torch Stick | 794080415037​ |
| 041493 | 4 | Light Up Ashtray | 794080415037​ |
| 041497 | 6 | Roughneck Magnetic Case | 794080415037​ |
| 041499 | 6 | Canvas Lock Bag | 794080415037​ |
| 041498 | 5 | Locking Magnetic Box | 794080415044​ |
| 041500 | 2 | Large Canvas Lock Bag | 794080415005 ​ |
| 088377 | 1 | Corrugate 4.1 Kit | 794080883775​ |
| | | | | |
| --- | --- | --- | --- | --- |
| UOM | Pieces | Dimensions INCH | Weight LB | UPC |
| Each | 1 | VARIES | VARIES | VARIES-ABOVE |
| Display | 138 | 47.5H x 19.5W x L | 40 | 794080883775 |
| Case | 138 | 22.3H x 22.3W x 12.8L | 40 | 794080883775 |
WHOLESALE BULK ITEM
DIMENSIONS

EACH
Height: 0.0 in
Width: 19.5 in
Length: 10.0 in
Weight: 0.0 oz
DISPLAY
Display Included: Yes
Height: 0.0 in
Width: 0.0 in
Length: 0.0 in
Weight: 0.0 lb
CASE
Height: 0.0 in
Width: 0.0 in
Length: 0.0 in
Weight: 0.0 lb
UPC
HOQ:109
Qty Coming Soon: 0
Qty Pre-Sold: 0
PRS: 88400
PEG: 0.0
---
WHOLESALE CORRUGATED 4.1 FD KIT - 138 PIECES PER DISPLAY 88377