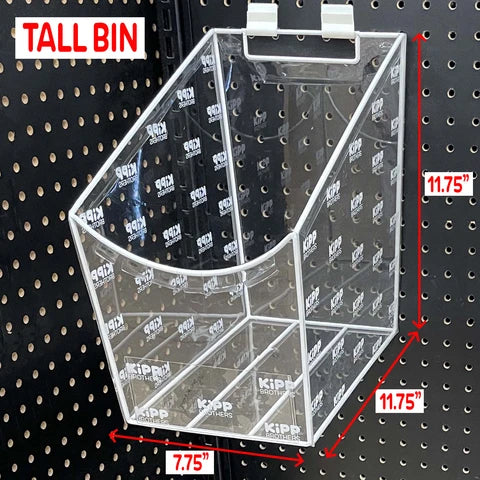 ---
WHOLESALE - TOY BIN KIT - BIN FIXTURES ONLY 88383
1 pieces per display
1 displays per case
Description

Product Info

Sales Info
Need a permanent merchandising solution for your store? How about a dozen clear vinyl bins to use with your currently installed pegboards and shelves? Our Toy Bin Kit has you covered! 
Our clear vinyl bins offer even more flexibility than ever before. They can sit on inline shelves, hang on peg board or hang on wire fixtures. 
This Toy Bin Kit includes 6 SHORT BINS and 6 TALL BINS to make the best use of space and item variety.
Customizable for whatever space currently in use!
*needing to display on pegs or slat walls? Use our 24 Pack Nylon Peg Board Hooks for easy hanging.
Each tall bin is 11.5"H x 7"W x 0.5"L. Each short bin is 6"H x 7"W x 11"L.
Browse All Our So Much FUN! Items 
— product sold separately.
UOM
Pieces
Dimensions INCH
Weight LB
UPC
Short
Bins

Tall
Bins
6

6
6H x 7.8W x 11.8L



11.8H x 

7.8

W x 11.8L

6

6
7940809754108

7940809753303
Case
12

24H x 20.3W x 12.8L
12.2

794080883836
WHOLESALE BULK ITEM
DIMENSIONS

EACH
Height: 0.0 in
Width: 0.0 in
Length: 0.0 in
Weight: 0.0 oz
DISPLAY
Display Included: Yes
Height: 0.0 in
Width: 0.0 in
Length: 0.0 in
Weight: 0.0 lb
CASE
Height: 18.7007 in
Width: 12.4015 in
Length: 16.1417 in
Weight: 0.0 lb
UPC
HOQ:436
Qty Coming Soon: 0
Qty Pre-Sold: 0
PRS: 15000
PEG: 0.0
---
WHOLESALE - TOY BIN KIT - BIN FIXTURES ONLY 88383